SUNROOMS - CJK BUILDERS, CONSETT
Sunrooms are becoming ever more popular, as they are a stunning way of enhancing your home and increasing your living space. They create a feeling of luxury that a conservatory could only ever dream of! The visual effect of the vaulted ceilings with their Velux roof windows, and the sliding bi-folding doors are breath-taking.
The reality of sunrooms is they are usable everyday rooms whether that is in the throes of summer or the winter freeze, the internal temperature will stay constant with your house temperature. They have very little in common with their cousins the "conservatory" in fact the only thing a conservatory has in common with a sunroom is it creates a light and new space to your home.
THE DIFFERENCE BETWEEN A SUNROOM & A CONSERVATORY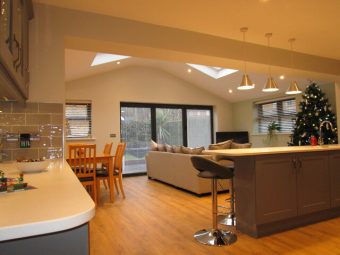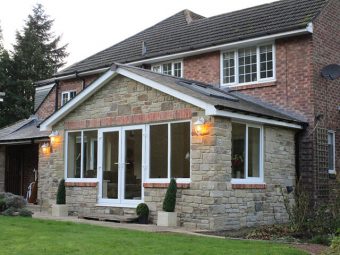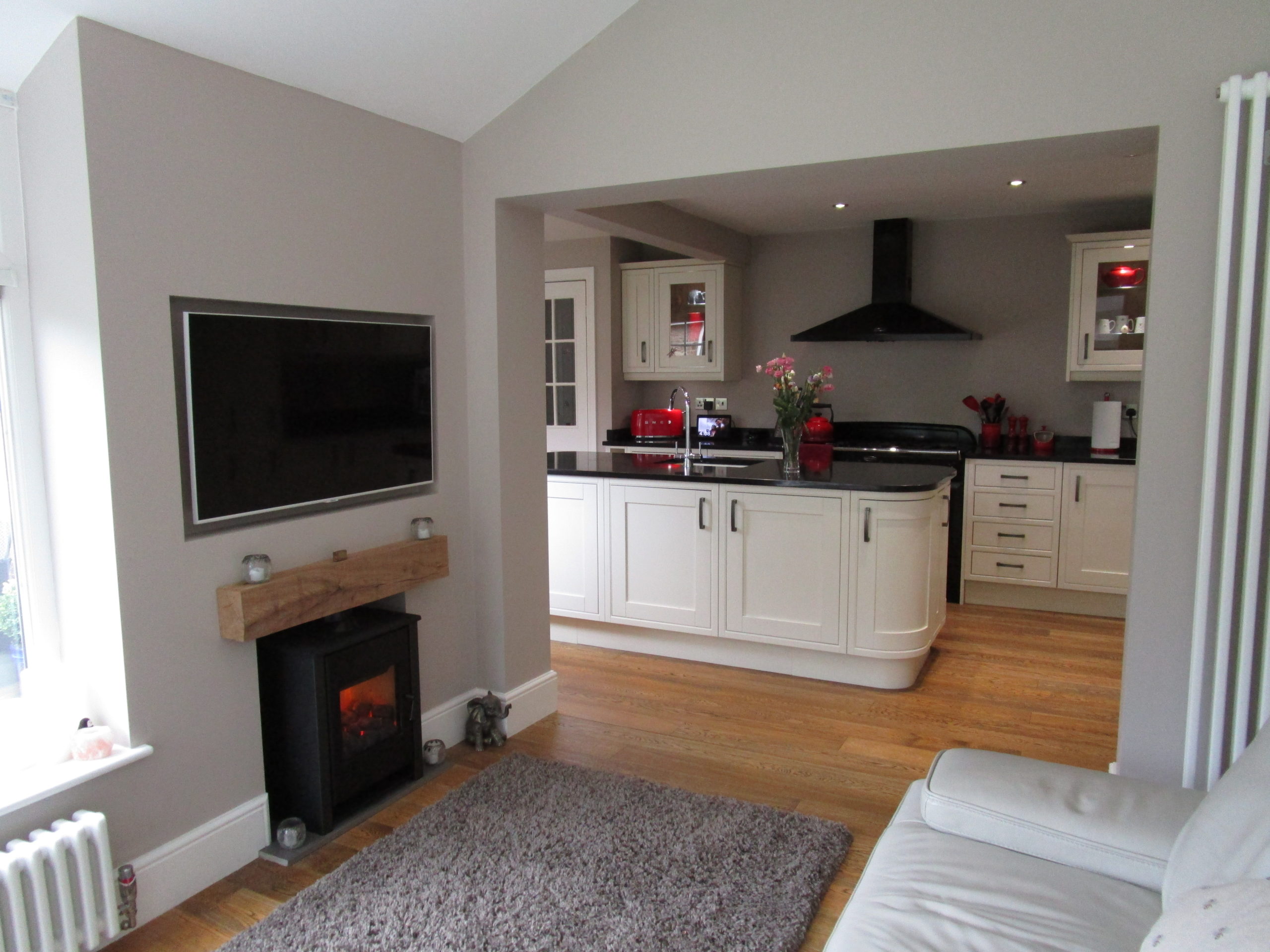 A Conservatory is Classed as a Temporary Construction.
It is a well-known fact that conservatories are far too hot in the summer (they has been known to melt candle wax in extreme sun) and unusable in the winter unless you have electric heaters. Building regulations will not permit you to have main gas central heating system in your conservatory, (and why would you want to; if the heating is not on all the time and we get severe cold weather you may find a frozen burst water heating pipe has leaked all over your conservatory floor). You must also have exterior grade doors separating the house from the conservatory (this is down to a conservatory not requiring planning permission and its thermal U-values, among other things). Conservatories are classed as temporary structures, and over time will require more maintenance and they will not have the same life span of a sunroom. Conservatories will also cost a lot more over the lifetime of the structure in energy bills if you use it all year round.
Sunrooms are classed as a  "Properly" Constructed Extension to your Home.
Sunrooms are a "properly" constructed extension to your house that will comply with all current building regulations; during the erection phases they will be inspected at certain points like any normal extension would be by Building Control, and they will have to meet stringent thermal U-values among many other things which are necessary for any modern day home.
The down side to a sunroom is you will need some plans drawn up, you will have to have Building Control involved, and you may need planning permission. This obviously is where the cost difference starts to come in; the design fees needs to be paid for as does the Building Control fees, furthermore all that extra insulation (for an increased U-value) that makes the room usable brings in added costs not to mention any structural work you may require to make the sunroom open plan, and the construction of a solid roof.
A Sunroom Can Increase the Overall Value of your Home.
Because a sunroom is classed as a permanent structure it must comply with all current building regulations and will be subject to the same inspections by Building Control as a traditionally built home extension.  This does mean that the initial cost of building a sunroom can be more expensive than a conservatory however over time, the additional maintenance required by a conservatory means that a sunroom is better value for your money as it requires less ongoing yearly maintenance and will increase the overall value of your home.
When budgeting for a sunroom as opposed to a conservatory the initial cost will be greater but over the life of your home that cost will be a lot more comparable
For more information on sunrooms, contact CJK Builders Consett by email or telephone 07912 215 740 to arrange an appointment.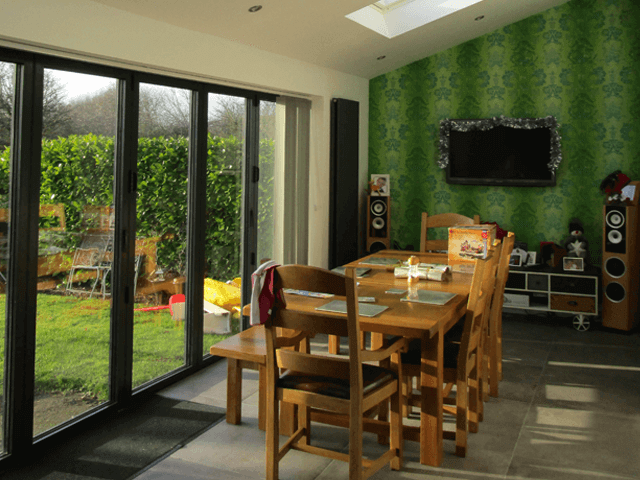 A sunroom is a permanent structure which will last as long as your house.
Overall saving on energy bills due to greater thermal U-value.
Require less maintenance.
Greater acoustic values.
Creates an open space with no need for internal exterior doors.
Gas central heating (where applicable).
Sliding bi-fold doors to allow full access to the garden (where applicable).
Adds more value to your home when you come to sell.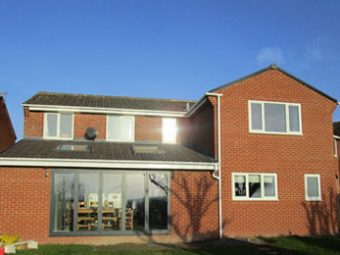 REDUCING THE CARBON FOOTPRINT IN CONSTRUCTION
As natural resources are getting scarce and harder to find, reducing a buildings carbon footprint is at the forefront of the planning department's agenda. People in general are also a lot more aware of the rising energy bills that seem to keep increasing year on year, so it has never been more relevant to try and reduce the heat loss from your home.
PART L – CONSERVATION OF FUEL & POWER 2013
Is the new standard which came into operation on 6th of April 2014. This has changed the targets set out for the thermal loss of a property, these changes mainly apply to new builds but they also have an effect on renovations and extensions.
WHAT ARE U VALUES?
U-value is a measure of how effective a material is as an insulator and the lower that figure is the better it preforms, so the closer that figure is to zero the better. The new regulations table for U-values for extensions and renovations is opposite.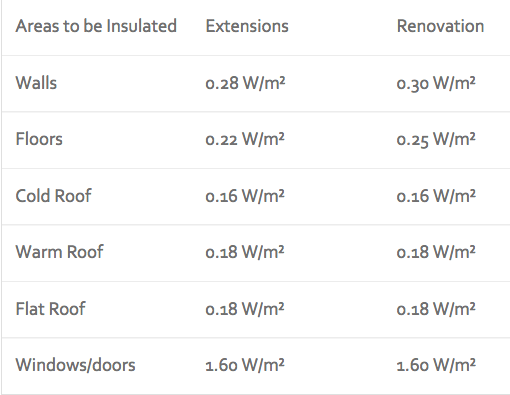 CJK BUILDERS APPROACH TO SUNROOMS
When we construct a sunroom (or any other building) we understand the importance of the insulation and how essential it is to be installed correctly. We take this element very seriously and always use the highest quality materials available.
Most sunrooms have vaulted ceilings and this is where conservatories perform really badly, the heat loss from a roof is a great concern as warm air always rises. Roof insulation in a sunroom is essential to get right and we mostly use YBS supper foil for the 1st layer (it helps to create a more air tight barrier), and then 75mm of Polyisocyanurate (PIR) rigid insulation boards, all with the necessary air gaps required. This process is essential to preform correctly as badly fitted insulation will generate high heat loss caused by cold spots. We always tape any joints and make sure all the insulation is cut correctly and installed to the manufactures standards. Any area that we feel is a potential heat loss, an example of this is where the rigid insulation meets the walls will be filled with expandable foam to help seal that area (please see the photographs of the insulated vaulted ceiling)
Although it is not required for extensions to have an Air Permeability Test to assess how air tight a building is, we always work to a standard that would pass this test even though it will never be carried out.
Should you require we are more than happy to discuss your options to reduce the U-value of your proposed sunroom making it more thermally efficient.
Firstly, increase the thickness of the PIR insulation in the vaulted ceiling by 25mm this will reduce the U-value of this area from 0.18 W/m² to 0.15 W/m²which equates to a reduction of 20% in heat loss from this area.
Secondly, if you upgrade your full fill cavity wall insulation from 0.37 to 0.32 grade you can reduce your U-values from 0.28 W/m² to 0.23 W/m² which equates to just over a 20% reduction in heat loss from this area.
These two above mentioned insulation upgrades do not incur any extra labour charges as you are already carrying out the process of the installation, the only charges you will experience is that of the increased material cost.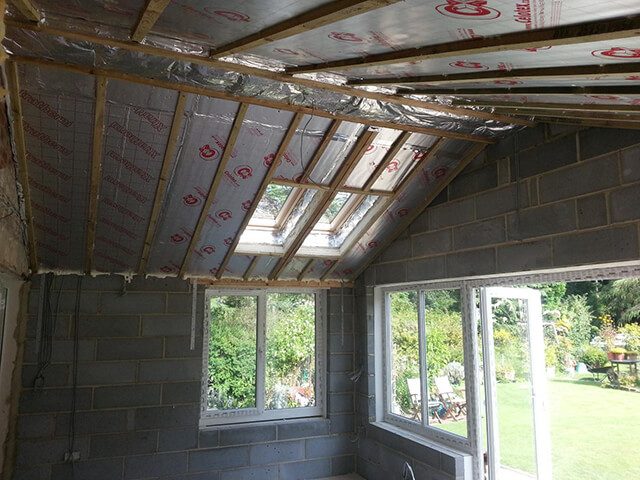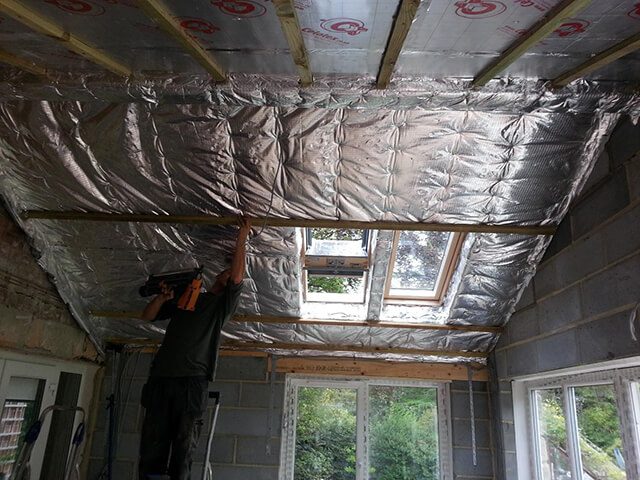 FOR MORE INFORMATION ON SUNROOMS  – CONTACT CJK BUILDERS CONSETT
At CJK Builders we offer a full range of sunroom extensions at a fixed price which will include a bespoke design, Building Control and construction fees. We will come to your home for a no obligation consultation, and can tell you the price before you commit to any work so you will know how much the build will cost.
For more information contact CJK Builders Consett by email or telephone 07912 215 740 to arrange an appointment.
Sunroom Construction – Medomsley
We wanted to thank you once again for the professional way you organised and completed the work on our new sunroom recently despite the complication of lockdown. We can wholeheartedly recommend CJK builders for their commitment and efficiency during the building work…