To a lot of people the garage that is attached to their home is a wasted space which is filled up with clutter. The average garage width is approximately 2.5 metres, so unless you have a small car the chances are it will not fit in, or if it does you certainly will not be able to open the doors fully. Until house builders decide to address this disproportionate size they will continue to be more of a big shed that is attached to your house rather than somewhere to keep your car.
The extra living space you can achieve by converting your garage can be quite useful providing you can find a new storage space for everything that you keep in there. The new function of the room can be anything from an office, children's playroom, additional bedroom, gym or whatever you feel you need that extra space for.
A Garage Conversion is a Cost-Effective Way to Add an Extra Room to your Home
A garage conversion is by far the most cost effective way to create space in your home, and when done correctly you will hardly be able to notice the fact that it used to be a garage. If you look at the photograph that I have above this article you will see how effective the conversion has been. On this particular job we converted two side by side garages into an office and playroom, and the results speak for themselves it is very hard to actually tell that four weeks previous to that photograph they were two garages.
At CJK Builders we know how important it is to get the conversion to look as original as possible so we will always strive to achieve the highest standards of workmanship to enable your conversion to achieve that look.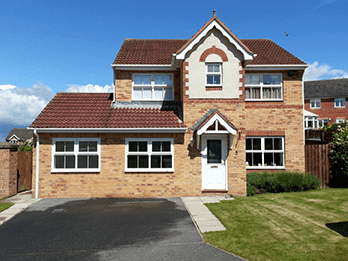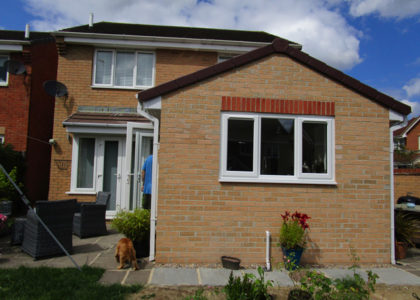 Things to consider when contemplating a garage conversion are;
Where will you put the items that you store in there, a new garden shed maybe the answer or just simply throwing out everything that you do not need.
What is the room created by the garage conversion going to be used for?
Is there an electrical distribution board, gas meter, or boiler in the garage? If there is how will it affect the rooms use, if it is just an office or playroom you may not be too bothered, however if it is going to be a dining room or bedroom you may not want it on display. The easiest solution is to just make a cabinet around them which will allow access. However if you are really concerned by their position in the room you could get them moved but this can dramatically increase the conversion costs!
Do you need to create a new doorway into the new room, if so how does this affect the layout of the existing rooms?
If you do not have a combi-boiler where is the manifold for the heating system? This may sound like a strange consideration but the new garage radiators will need to be connected to this so you may have to lift your floor boards, which can be a little bit awkward if you have got real wood or laminate flooring so in this instance you may feel electric radiators are the best way forward.
Decide on a layout of the newly proposed room, you can either get a professional in to do this for you or you may feel that you can manage this yourself. If you decide that you are going to do it yourself, draw a sketch of the proposed layout and include a rough location of electrical points, doorways, radiators etc.
Once you decide that you want to go ahead with the garage conversion you will need to put a notification in to Building Control with regards to your plans and pay them the relevant fees associated with this type of work. Once the work commences Building Control will then come out and inspect it at relevant intervals to ensure that the work that has been carried out is in accordance with current regulations.
How Long Does it Take To Convert A Garage?
Generally as a rough guide a garage conversion can take anything from 2-5 weeks depending on specification, and the work can consist of;
The removal of the garage door.
Bricking up of the opening to a certain dimension to allow for the installation of a window.
The Floor will then be levelled and insulated.
You may require the walls and ceilings to be insulated.
Forming of any new openings into the house.
All electrical and plumbing points to be installed.
Plaster boarding and skimming to all walls and ceilings.
Final connection of all electrics and plumbing.
The fitting of skirting boards, architraves, and all other joinery work that is required.